Any type of power supply repair – (B2B)
Who does not know that the entire technology gangs up against you! And then the machines come to a standstill because an important power supply unit is defective. This means that a power supply failure can quickly paralyze the entire production.
At the latest then we can help you with a power supply repair!
Have your switching power supply repaired by a professional. Entrust us with your defective power supply and sit back while we take care of everything. Depending on the repair service you choose and the procurement or stocking of spare parts, you will receive your power supply back in working order within a few days.
from professionals
fast
inexpensive
With our voluntary commitment to increase sustainability and our reverse engineering process, we are able to solve even problematic to almost hopeless cases.
Power Supply Repair, Server Raid Dusslingen Tübingen Stuttgart – power supply repair IFRP-352.m4v
We repair your defective power supplies.
Repair instead of new acquisition – this is the contemporary solution!
We give your power supply new wings!
We repair all defective power supplies from industrial and IT equipment, i.e. machine controllers, storage, RAID, JBOD, FC, SAN, NAS, servers, bonders, CNCs and others. That is, we specialize in power supply repair of high performance power supplies and industrial power supplies.
And the repair is always worthwhile! Because it is much more economical than a new purchase or a re-implementation.
In addition, every single power supply is refurbished and we carry out numerous load tests according to the manufacturer's specifications. It is also very important to us to replace the mostly cheap, outdated components with the highest quality spare parts.
Already more than 12.600 successful repairs confirm us as experts. If you would like to learn more about our work, please feel free to contact us!
Power supply repair from most manufacturers
Unfortunately, not all manufacturers produce power supplies that can be repaired later (sometimes -zig years later). Some manufacturers deliberately shorten the lifespan of their products in order to be able to sell new models again and again (also again with planned obsolescence). In addition, a few manufacturers prevent future reparability by a certain design of the power supplies. However, this is not in the interest of the environment and also not in the interest of the consumer, who wants long-lasting products for his investment.
Some of our common manufacturers that we are happy to repair frequently are:
Ablecom
Astec VS1 oder Astec VS3
Delta
Etasis
Elanvital
Hahn-Rohrbacher
Hameg / Rohde & Schwarz
Heidenhain
Infortrend
Power-One
Siemens
Supermicro
Xyratex
… and many more
Procedure:
(Optionally) Announce Your power supply repair request via e-mail or telephone!
Send a package with your defective device. If you did not contact us beforehand, enclose a completed version of this repair order form.
If you did not state an upper price limit you will receive an estimate of cost via e-mail or telephone.
After you confirm the estimate of cost, you will receive a package with your refurbished device soon after!
Advantages
high quality (see below)
reliability
quick repair
refurbishing instead of expensive new acquisition
boosted life cycle of Your device
express service available if necessary
higher sustainability since no new purchase is required – against systematic obsolescence
resource saving by reutilization
High Quality
complete Refurbishing
Usage of premium-quality replacement parts
12 months warranty on all our reparations
2 years warranty on integrated new components
specialist business
standardized test procedures according to ISO 9001
Burn-in-Test
safety inspection according to EN 62638:2010-08 DIN VDE 701/702
climate inspection from +5 to +60°C
chiplevel repair
For very good price
high and affordable quality
fixed price or individual cost estimate, if desired
Do you need quick information? Contact us now!
We look forward to your power supply repair inquiry. Do not hesitate to contact us.
How fast is the power supply repair?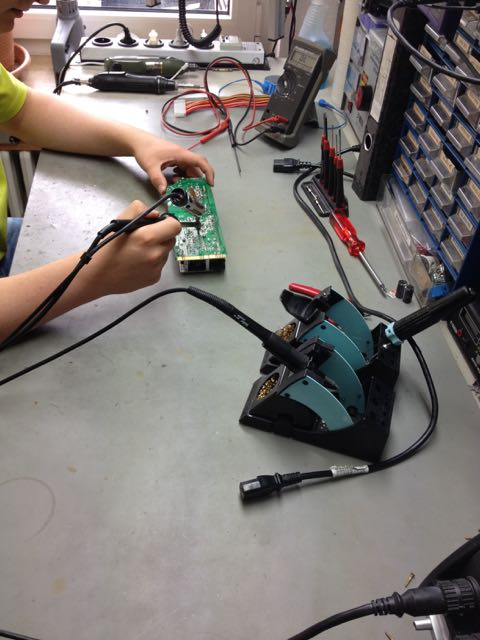 As a rule, we only need a few working days to repair your power supply. However, the prerequisite for this is that we actually have all the required spare parts in stock. Unfortunately, this is not always the case with some exotic power supplies. Then the repair time depends on the procurement time of the ordered spare parts. However, we can give you information about this in individual cases.
From time to time there are special cases where we cannot keep our usual very short lead time. This is because there are millions of electronic spare parts and we cannot store all of them. Sometimes we have to import them from third countries first for a specific repair, or we have to convert and modify the existing circuitry to newer components.
In such cases, however, we will inform you immediately of the expected delivery time.
Also as express service
If you are in a hurry for an emergency, we offer express repair. That means you send us the industrial power supply by express. Then we will repair it before any other orders in one working day, if all spare parts are in stock. And after that, you will get the power supply back by express shipping.
– Getting power supplies repaired has never been so easy!
Contact us if you need more details or a faster completion of your order. We are looking forward to your inquiry!

Express Repair
You are in a hurry? – Then you are exactly right with us!
Express repairs please always announce by phone and in writing! This is the only way we can be sure to reserve the time for your power supply.
Even in the case of a replacement, advance notice is helpful for a smooth process.
Do you need another solution? Simply contact us. Then we will surely find a suitable way. We are happy to extend our service if it is possible. Therefore we are looking forward to your inquiry.
Would you like to know how power supply repair works in practice? Read more under typical customer cases. Here, customers tell us what they experience with us – especially when they are in a hurry. The bottom line is: fast performance in super quality.