Sustainable use of technology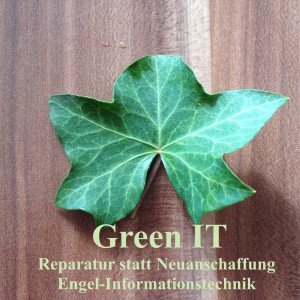 Energy consumption has skyrocketed exorbitantly in recent years. Green IT is intended to counteract this development. Green IT and sustainability are intended to counteract this development. This encompasses all measures that combine technological progress with environmental protection – in every phase of a product's life cycle, from manufacture to disposal.
Green IT thus stands for the environmentally friendly and resource-conserving use of technology.
According to our company philosophy, we stand for lived sustainability and practice it every day. Our refurbishing also additionally extends the runtime of the repaired power supplies. Of course, we only use high-quality spare parts.
For us, Green IT and living ecology means dealing responsibly with nature as well as the resources it provides us. That means:
A repair or replacement of a defective power supply should always be preferred to an expensive new purchase of the entire machine.
So this sustainability we practice not only protects the environment, but also your wallet.
In addition, you are helping to stop systematic obsolescence. This is the premature wear and tear of your equipment already planned by the manufacturers. The manufacturer uses inferior components, which are planned to break within a certain period of time, so that the customer has to buy a new device.
And this is exactly what we counteract. We not only repair the power supply, but also replace inferior components with high quality, high performance components. After the repair, several heat and load tests follow, which check and ensure the restored functionality of the power supply. Afterwards, the power supply can be used for many more years.
Climate-friendly shipping
climate friendly shipping by DHL GOGREEN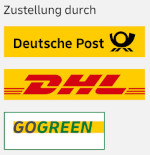 We send your DHL parcel shipments nationally as well as internationally climate-neutral and sustainable with DHL-GOGREEN. As part of our commitment to climate protection "GOGREEN", the greenhouse gases generated by the transport are offset by climate protection projects.
We bear the additional costs charged by DHL for this on your behalf.
With our DHL GOGREEN shipping, you not only have the certainty that your shipment will reach you quickly and safely – you also make an important indirect contribution to climate protection through our climate-neutral shipping.
climate-friendly shipping by UPS Carbon Neutral Service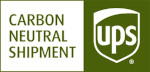 For national and international UPS packages, we book the UPS Carbon Neutral Service for a fee. In this way, we also make a climate-neutral contribution here, support emission reduction projects and thus offset the emissions caused by the transport of your shipments.
UPS supports projects such as reforestation, methane and landfill gas destruction, and wastewater treatment.
This fits in with our commitment to sustainability, and we're happy to cover these additional costs for you.
Climate-friendly green electricity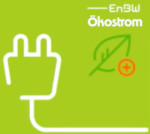 By the way, the electricity we use for the power-hungry tests for your power supply is 100 % renewable. We get our green electricity from EnBW, because it is generated entirely from wind, water, photovoltaic or bio natural gas plants in Europe.
In the spirit of sustainability, we are happy to cover these additional costs.
Restriction of Hazardous Substances Directive
The Restriction of Hazardous Substances Directive 2002/95/EC (RoHS 1) serves to restrict the use of certain hazardous substances in electrical and electronic equipment. The objective of the directive is to ban problematic components from future electronic waste. This includes, among other things, replacing leaded soldering of electronic components with unleaded soldering, banning environmentally harmful flame retardants in cable insulation, and promoting the introduction of corresponding substitute products that are as equivalent as possible. Furthermore, the electrical components and parts used must themselves be free of the problematic substances. Some of the substances used in electrical engineering are considered hazardous to the environment. On the one hand, they have a toxic effect above certain quantities; on the other hand, they cannot be broken down in the environment, or only with difficulty. The RoHS directives are intended to minimize the entry of these substances into the environment.
Professional disposal

In accordance with the WEEE Directive 2012/19/EU, we make it our business to properly dispose of all irreparable waste equipment.
Due to ongoing market expansion and ever shorter innovation cycles, electrical and electronic equipment is being replaced at an ever faster rate and is a rapidly growing source of waste. While Directive 2002/96/EC has been effective in reducing hazardous substances contained in new electrical and electronic equipment, WEEE will continue to contain hazardous substances such as mercury, cadmium, lead, hexavalent chromium and polychlorinated biphenyls (PCBs), as well as ozone depleting substances, for years to come. These hazardous constituents pose a major problem in waste disposal.
We ensure compliance with EU directives under WEEE Directive 2012/19/EU in the rare cases of disposal of irreparable waste equipment. This is because far too few waste electrical and electronic equipment is sent for genuine recycling. And without recycling, valuable resources are lost and "urban mining" cannot replace this in our view.
Sustainable circular economy
From the beginning, the global economic system has been linear. Natural resources are used to produce mass-produced goods that are purchased and often disposed of after a single use. This linear economic model of mass production and mass consumption is at odds with planetary boundaries and the idea of sustainability.
In accordance with the principle of the circular economy, however, non-renewable resources that cannot be used endlessly are conserved and returned to the production cycle after their useful life. This limits waste generation and industrial waste can thus be reused and recycled. This therefore corresponds to true sustainability.