Repair order for power supplies (fillable online)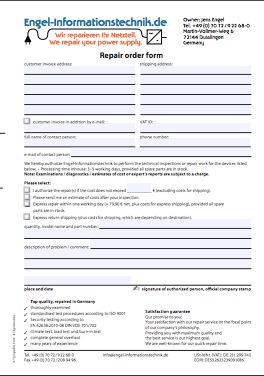 Please fill out the PDF form "Repair order" completely, sign it and put it in the package with the defective power supply unit. Then send it well and safely packed to the post office.
Please fill in carefully online at the browser (e.g. with the Chrome browser, JavaScript must be activated for this function).
In some older browsers or with other browser settings the PDF is only offered as a download. In this case, please fill in the form on screen, save it, print it out and sign it.

Alternatively, you can download the
Adobe Acrobat Reader
, save the PDF on your computer and then complete the form using the Acrobat Reader installed.
Then save the completed PDF form "repair order", print it out and add your signature with company stamp.